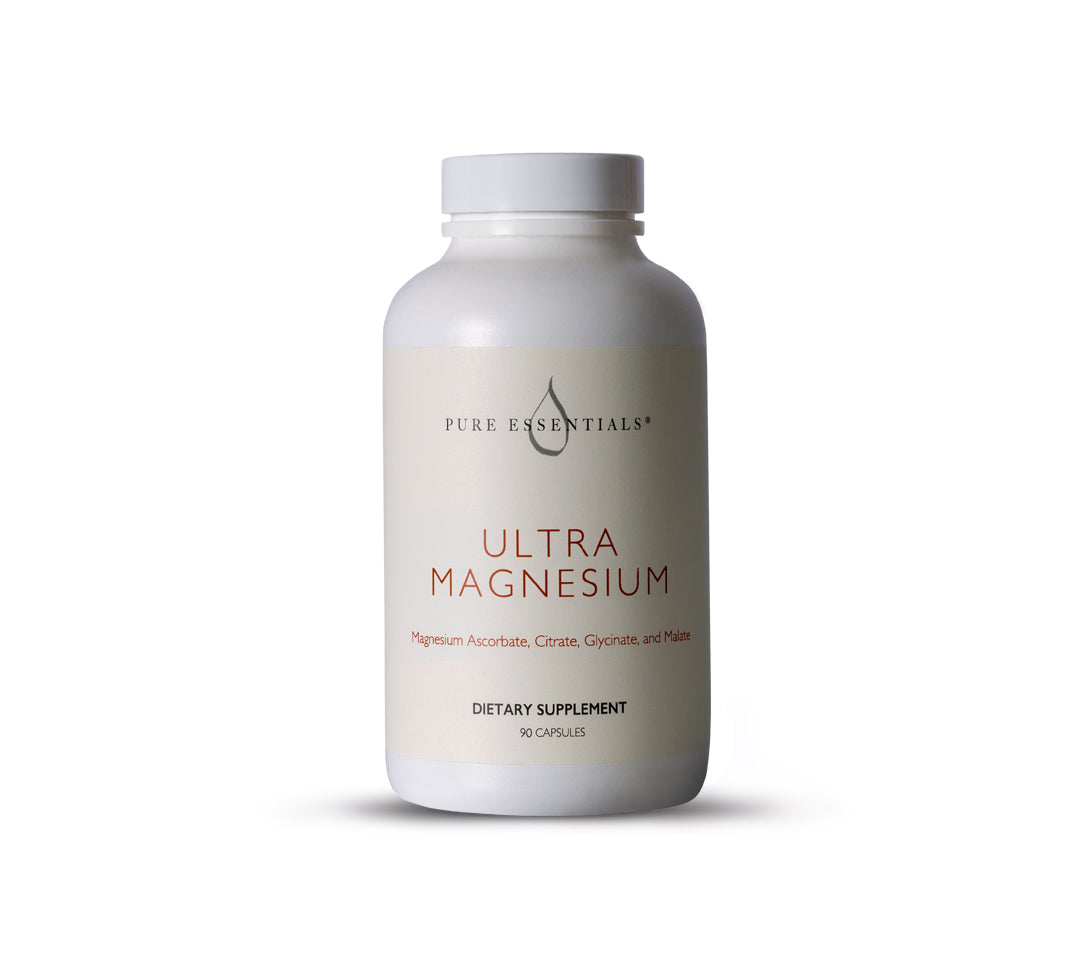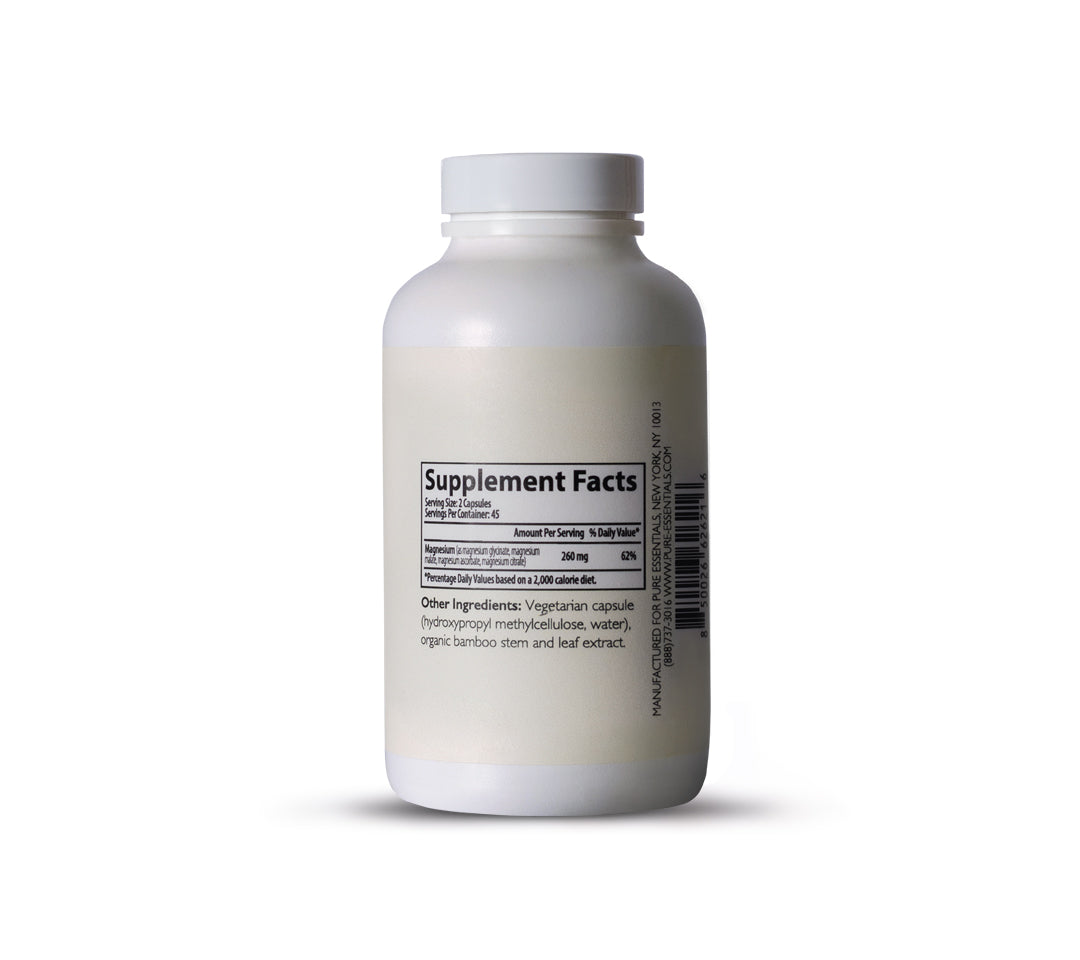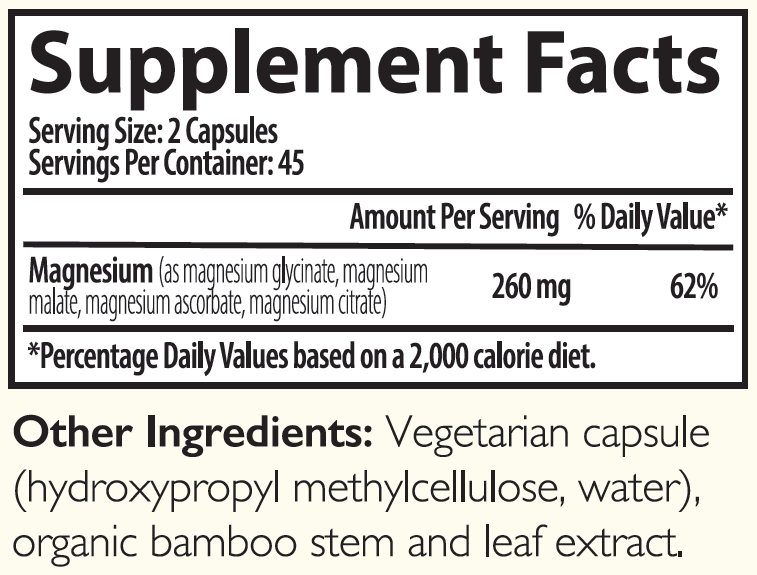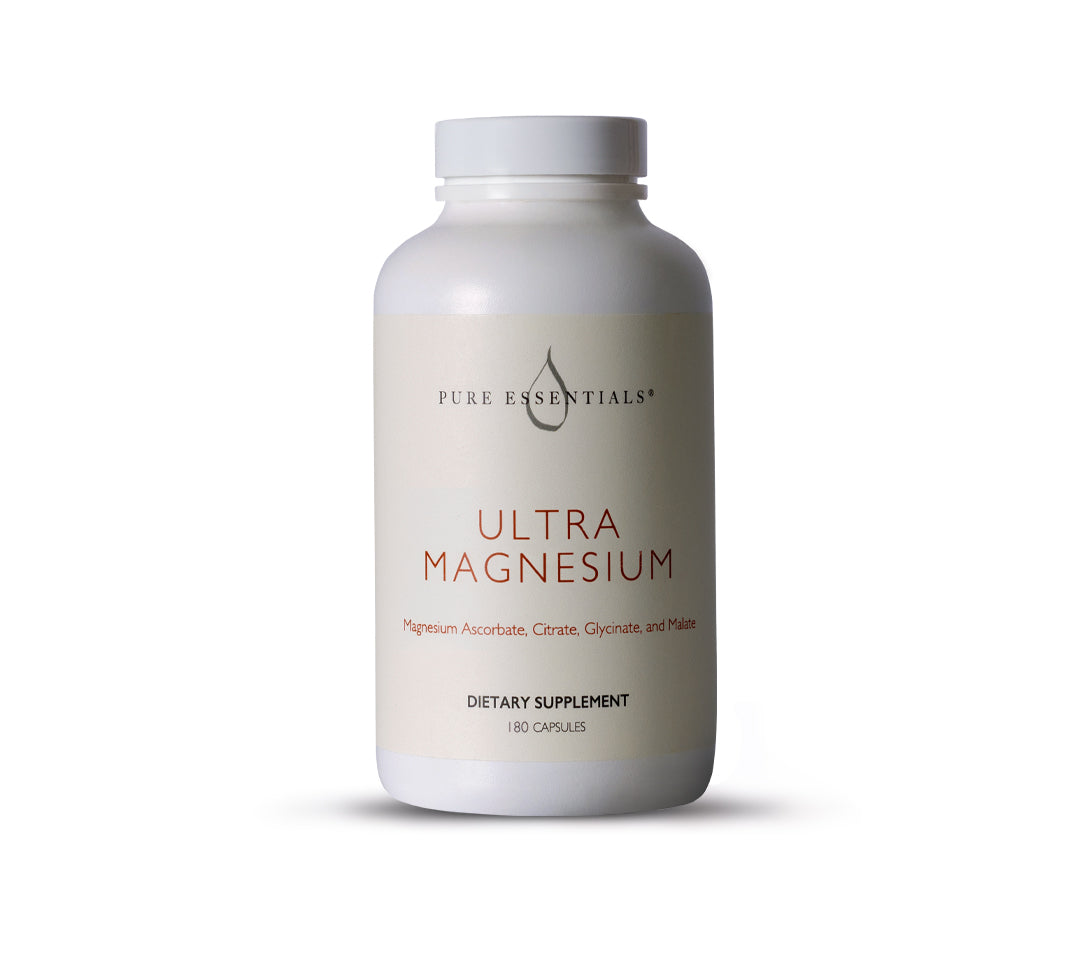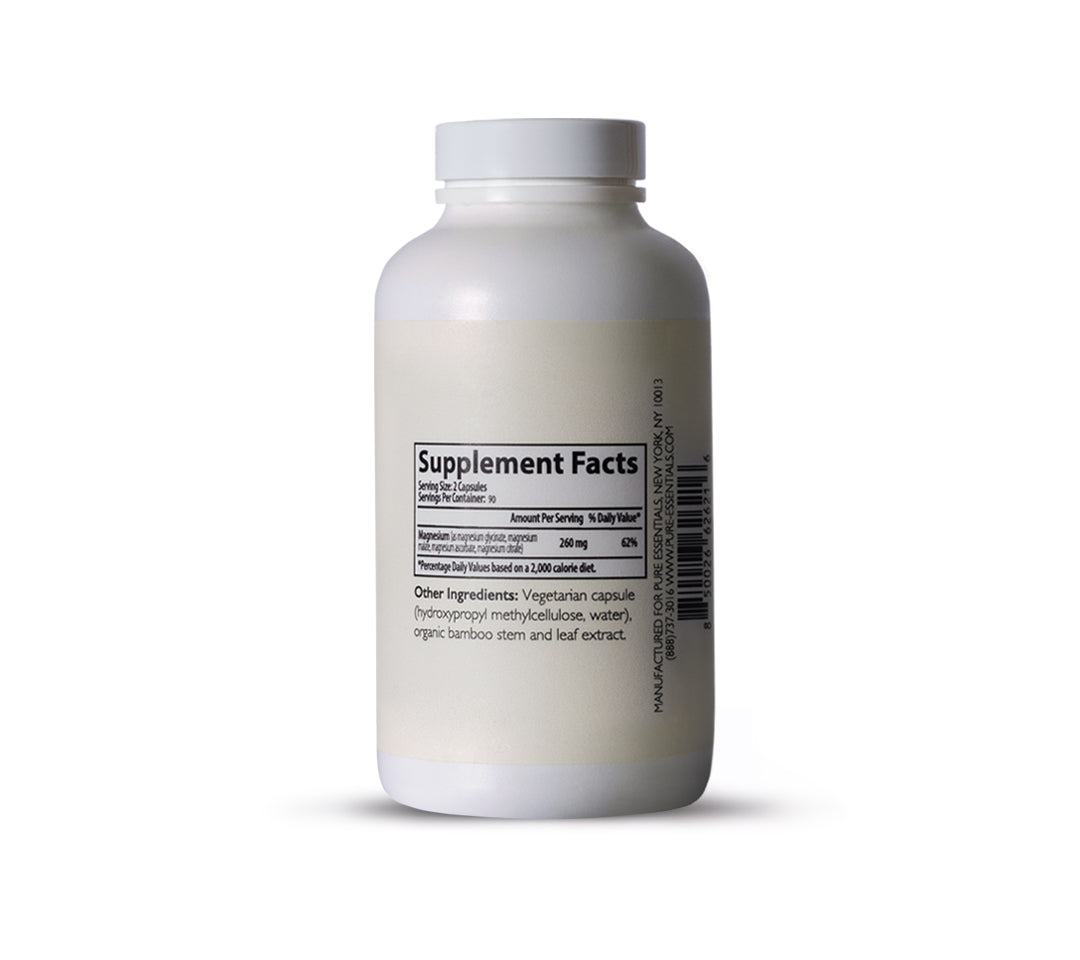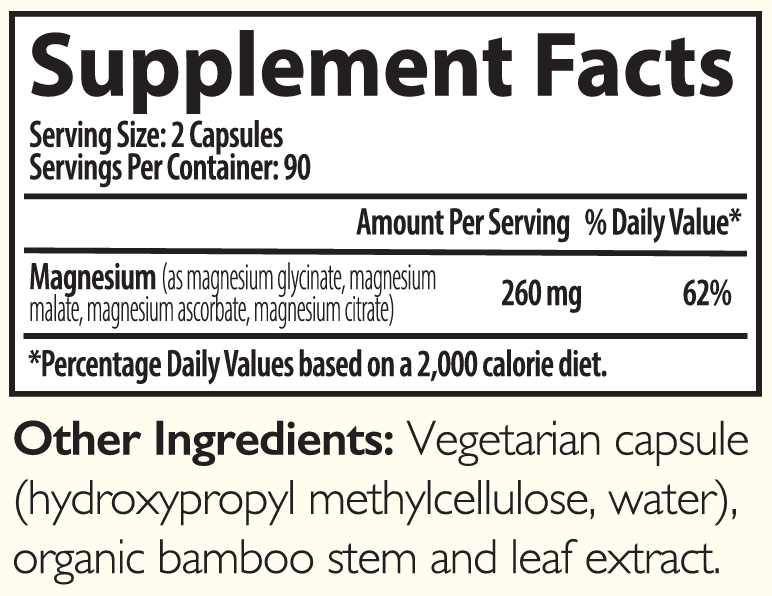 Ultra Magnesium
4-in-1 Magnesium Ascorbate, Citrate, Glycinate & Malate
In stock & ready to ship.

Inventory on the way
Free U.S. Shipping Over $75
Packed with essential magnesium in four therapeutic forms: Magnesium Ascorbate, Magnesium Citrate, Magnesium Glycinate, and Magnesium Malate and formulated with organic bamboo stem and leaf extract to ensure product integrity.
Ultra Magnesium is our premium magnesium blend supplement carefully formulated to fill gaps in nutrition and support your overall health and well-being.*
Supports cardiovascular function, musculoskeletal health, carbohydrate balance, energy production, sports performance, as well as brain and neural health.*
May help treat magnesium deficiency by promoting bone development, neuromuscular function, energy transfer, and DNA stability.*
Ultra Magnesium offers a comprehensive approach to help you meet your individual needs. With four different forms of magnesium - ascorbate, citrate, glycinate, and malate - it ensures optimal absorption and utilization of this essential mineral.* Each form provides unique benefits, going beyond the known advantages of just a single magnesium form. Formulated without magnesium stearate, our formulation offers clean and gentle support.*
Magnesium ascorbate:
Provides antioxidant protection.*
Shields the body from free radicals.*
Contributes to collagen formation.*
Supports hormone synthesis and amino acid metabolism.*
Provides immune system support.*
Promotes cardiovascular health.*
Magnesium citrate:
Provides gentle relief from constipation.*
Eases heartburn and indigestion.*
High bioavailability for efficient absorption.*
Improves muscle magnesium levels.*
Supports gastrointestinal health.*
Magnesium glycinate:
Promotes calming and relaxation.*
Improves sleep quality.*
Reduces muscle hypertonicity.*
Exhibits anti-inflammatory and immune-modulating properties.*
Supports protein synthesis and collagen formation.*
Supports glutathione production and antioxidant support.*
Magnesium malate:
Improves low energy levels.*
Decreases pain in fibromyalgia tender points.*
Relieves sore muscles.*
Plays a key role in ATP production.*
Supports athletes in systemic repletion.*
Studies have shown that magnesium deficiency is common. Ultra Magnesium can help by promoting bone development, neuromuscular function, energy transfer, and DNA stability.* It acts as an anti-inflammatory, can assist in reducing lipid peroxidation, and may help maintain calcium balance.*
*These statements have not been evaluated by the Food and Drug Administration. These products are not intended to diagnose, treat, cure or prevent any disease.
As a dietary supplement take 2 capsules once a day or as directed by a healthcare practitioner.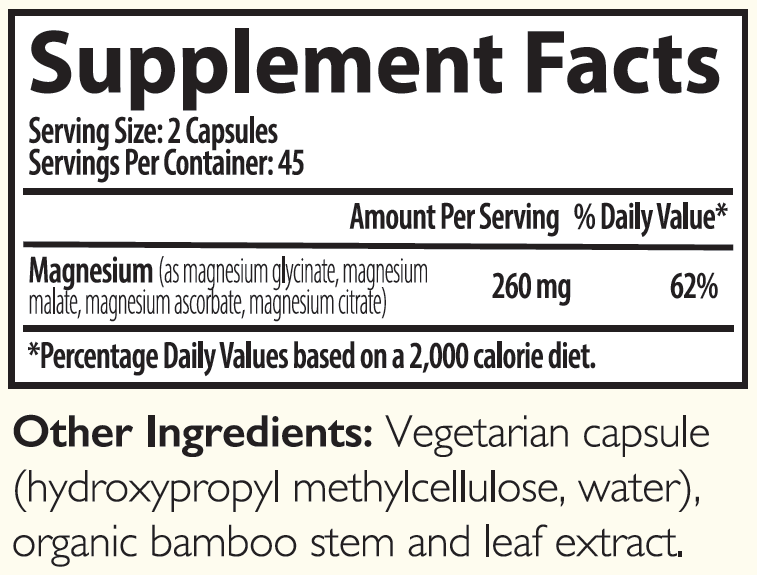 Taking a magnesium supplement is important due to the prevalence of magnesium deficiency in the general population. Low dietary intake and inadequate magnesium levels can lead to various health issues such as muscle and skeletal problems, cardiovascular issues, metabolic disorders and more. Rondanelli M, Faliva MA, Tartara A, et al. An update on magnesium and bone health. Biometals. 2021;34(4):715-736. doi: https://www.ncbi.nlm.nih.gov/pmc/articles/PMC8313472/ Cuciureanu MD, Vink R. Magnesium and Stress. In: Vink R, Necifor M, ed. Magnesium in the Central Nervous System. Adelaide (AU): University Of Adelaide Press; 2011. doi: https://www.ncbi.nlm.nih.gov/books/NBK507250/?report=reader. Fiorentini D, Cappadone C, Farruggia G, Prata C. Magnesium: Biochemistry, Nutrition, Detection, and Social Impact of Diseases Linked to Its Deficiency. Nutrients. 2021;13(4):1136. Published 2021 Mar 30. doi: https://www.ncbi.nlm.nih.gov/pmc/articles/PMC8065437/