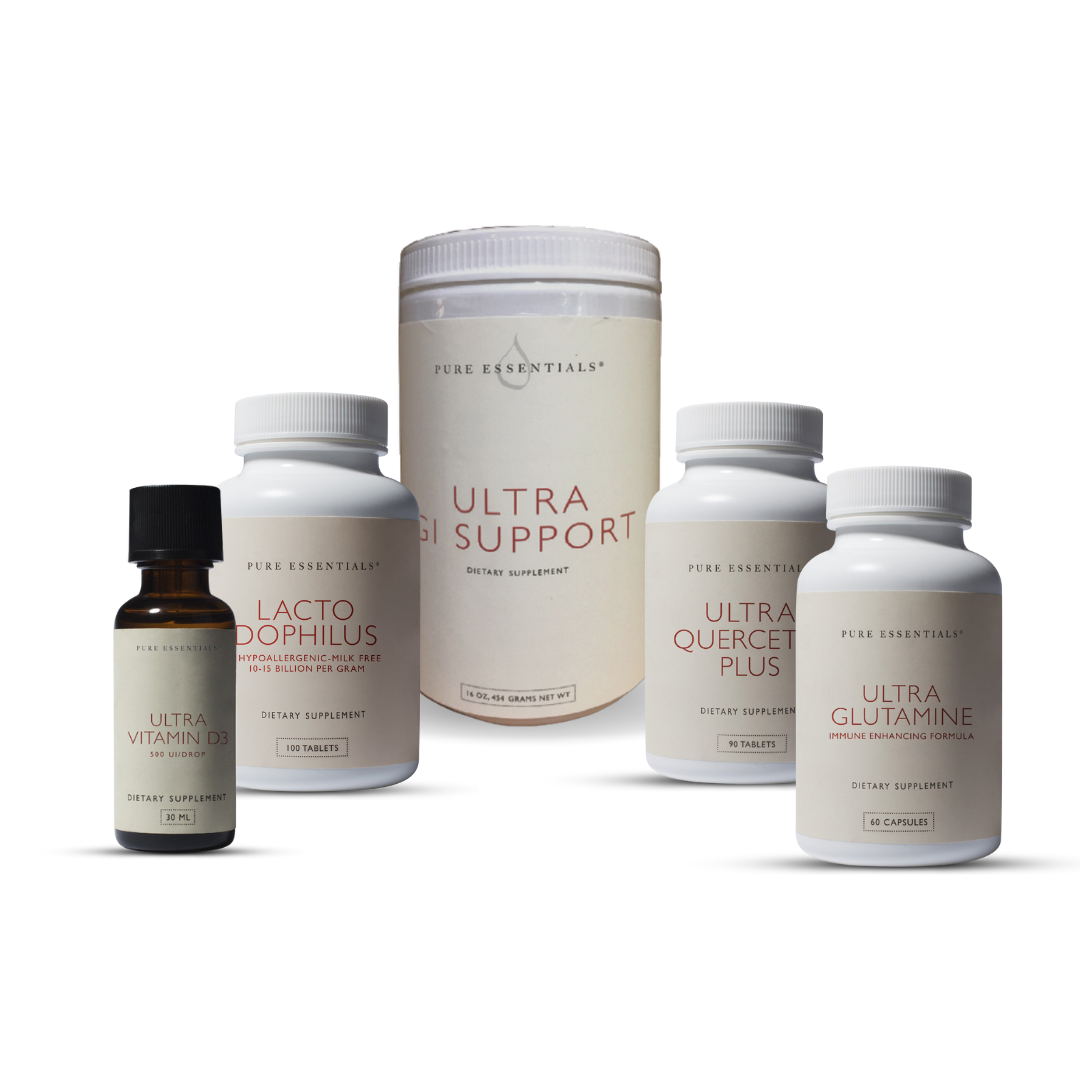 Gut Repair System
Complete Digestive Relief & Gut Repair
In stock & ready to ship.

Inventory on the way
Free U.S. Shipping Over $75
Combines five therapeutic-grade formulas to deliver:
Repair gut lining
Reduce bloating/gas
Reduce inflammation
Improve immune system response
Helps weight loss
Improve nutrient absorption
This system is made up of the following products that work together to repair the gut. Each product can be used independently, but when used together they promote optimal gut restoration and health.
ULTRA GI SUPPORT
Full 7 grams of fiber in one serving.
No irritating fibers like Psyllium, Senna.
No sugars or flavors making it easy to mix in different kinds of foods or taken by itself.
Ideal 80-20% split between soluble and insoluble fiber promotes healthy 12–18 hours transit time.
LACTO-DOPHILUS
Replaces bad bugs with beneficial probiotics.
Harvested at peak activity and lyophilized (put into stable, suspended animation) for maximum viability and potency when they implant into the digestive tract.
Effectively rehabilitates the digestive system by restoring the body's healthy digestive organisms and clearing out the intestines, thereby warding off dietary toxins.
ULTRA GLUTAMINE
A remarkable, energy-boosting formula to increase endurance, and decrease fatigue.
Enhances muscular stamina and mental sharpness.
Helps regenerate the intestines surface cells.
PAK naturally recycles L-glutamine so the body can use it over and over again.
ULTRA VITAMIN D3
Improves T cell production and immune function.
Supports bone, muscle, prostate, and digestive system health.
Improves cognitive function and mental alertness; clears brain fog.
Improves insulin resistance, better blood sugar regulation.
ULTRA QUERCETIN PLUS
Enhances cell repair without causing heart and stress risks which NSAIDS usually perpetuate.
Promotes pain relief and manages inflammation naturally.
Antiviral and antioxidant effect.
Promotes relief of common allergy systems.
See individual product serving size & directors, or use as recommended by your healthcare provider.